This is one of the free short stories in tor.com written by the best contemporary master of grimdark. It takes place sometime before, or during the events of the First Law trilogy. Somewhere in the North a badass woman warrior escaping from her pursuers meets a badass northern barbarian escaping from his pursuers. The meeting place happens to be in the middle of a narrow bridge and because badass-ness implies a huge ego none wants to give a way to the other. If you think of a famous scene of Robin Hoot meeting Little John, you are right: this feels like a (politically correct) retelling.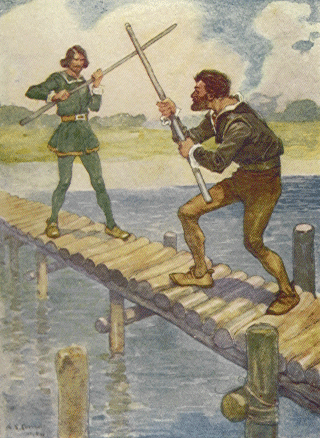 The story itself is short. As you would expect from Abercrombie, it is quite bloody. It is also humorous if you can ignore the dead bodies and gore. Humor actually worked for me as I chuckled quite a few times reading. Most of it related to the attitude of the character whose POV is shown - she is grumpy most of the time, that is all the time she is not fighting for her life.
As usual for a short story my rating mostly reflects its length: it was quite good, but too short to make me care about any of the characters. As I mentioned it is a free online read - and a quick one too, practically a must for Abercrombie fans. This also can be read be people not familiar with The First Law trilogy as it does not contain any spoilers at all; none of the characters from it appear here.
P.S. At this point I am convinced that Abercrombie cannot write a good sex scene even if his life depends on it. Heck, I saw more sexually arousing works on classic philosophy than his "steamy" scenes. I heard the opinion that he does this on purpose to show the grittiness of his world. I am not going to be a judge here.